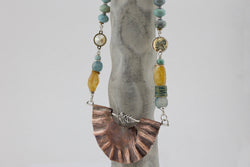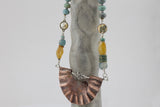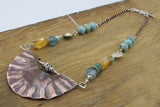 Karyn Chopik
I'm A Big Fan!
SKU: Oak3014
This One of a Kind just works! It is a true classic example of Karyn Chopik's signature metal art style. The double sided copper fan is folded over a sterling silver wrapped bar. Married with beautiful citrine stones and Grecian Agate it just makes you smack your lips and say WOW!
100mm x 65mm double sided copper fan
120mm sterling silver wire wrapped bar
two citrine chunks
two frosted vintage beach glass beads
Grecian agate
4mm copper ball chain
22mm bronze hand made coin with sterling rim
20mm golden Swarovski golden crystal
Swarovski crystal spacer
Frosted Amazonite
Bronze spacer bead
Karyn Chopik Studio is made up of a team of talented Canadian artisans. Together we create high quality, luxury jewelry in the sterling silver, bronze, copper, and gold.
All of our work is handmade in British Columbia, Canada.
Our jewelry is handmade to order. Once your order is placed, we do our best to build your order and get it shipped as soon as possible. We will notify you when your order has shipped. For larger orders please allow us additional time to prepare your order.
See our full refund policy