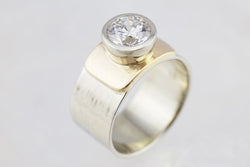 Karyn Chopik
Anne Ring
SKU: GOLD10
Commission Enquiry
Oh Canada!
A client came to us recently wanting our best-selling Driftwood Ring in 14k white and yellow gold. We sourced a breathtaking Canadian diamond, just shy of 2 carats, to set in a handmade bezel.
Canadian diamonds are highly sought after for being ethically sourced and conflict free. These stones are often more expensive, but many clients will pay the extra price to know their stone came from a reputable mine.
This stunning ring is truly timeless, and the client can rest easy knowing that her ring is not only handmade locally, but also ethically produced.
Karyn Chopik Studio is made up of a team of talented Canadian artisans. Together we create high quality, luxury jewelry in the sterling silver, bronze, copper, and gold.
All of our work is handmade in British Columbia, Canada.
Our jewelry is handmade to order. Once your order is placed, we do our best to build your order and get it shipped as soon as possible. We will notify you when your order has shipped. For larger orders please allow us additional time to prepare your order.
See our full refund policy