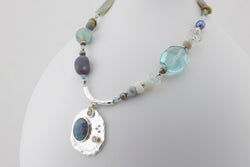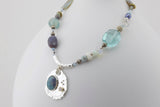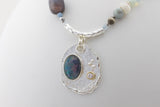 Karyn Chopik Studio
Opalescent Queen of Gems
SKU: OAK2025A
This beautiful soft grey and powder blue One of a Kind necklace is soothing for the eyes and soothing for the soul! Hand-knotted with grey silk thread it is rich with specimen beads Karyn has been collecting over the years. It has a gentle calming feeling which is not surprising considering it is set with a spectacular triplet opal in the centre of the pendant. Opal is an emotional stabilizer and the birthstone of October.
18" hand-knotted with silk thread
Sterling silver
18mm x 13mm Opal triplet
4mm cubic zirconia set in bronze bezel
Botswana agate
Vintage beach glass
3mm faceted aqua marine beads
Vintage African crow beads
Freshwater pearl
Greek rustic bronze cheerios
Faceted Labradorite
Clear blue agate
Amazonite beads
Karyn Chopik Studio is made up of a team of talented Canadian artisans. Together we create high quality, luxury jewelry in the sterling silver, bronze, copper, and gold.
All of our work is handmade in British Columbia, Canada.
Our jewelry is handmade to order. Once your order is placed, we do our best to build your order and get it shipped as soon as possible. We will notify you when your order has shipped. For larger orders please allow us additional time to prepare your order.
See our full refund policy