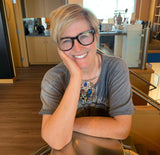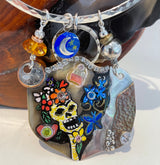 Karyn Chopik Studio
Out One Mouth In The Other
This charismatic necklace is a nod to Frida Kahlo's skull series. It is a whimsical mix of vibrant colours, gemstones and textures. The hand painted butterflies are streaming out of our pretty skull's mouth - right into the chops of the smiling cat! Perhaps Out One Mouth In The Other is a commentary on how news travels? The cool thing about art is you can take away whatever meaning you want. Bottom line- it's a fun piece of wearable art!

8cm x7cm bronze, copper and sterling silver pendant
5mm wide ball peen textured sterling silver neck collar
8mm genuine Peridot
4mm Swiss blue topaz
4mm imitation Alexandrite
Raw Rhodochrosite, cubic zirconia, amber
handmade sterling bead,bronze sand cast cheerio
resin and sterling silver moon reversible Athena Goddess on other side.
Karyn Chopik Studio is made up of a team of talented Canadian artisans. Together we create high quality, luxury jewelry in the sterling silver, bronze, copper, and gold.
All of our work is handmade in British Columbia, Canada.
Our jewelry is handmade to order. Once your order is placed, we do our best to build your order and get it shipped as soon as possible. We will notify you when your order has shipped. For larger orders please allow us additional time to prepare your order.
See our full refund policy