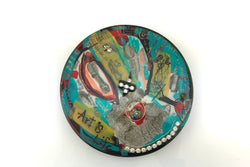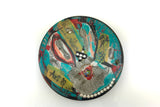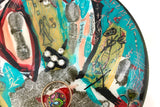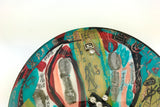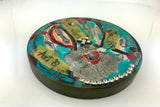 Karyn Chopik Studio
Palm Reader
SKU: OAK3071
Karyn achieved this vibrant piece of art by painting colourful layers of acrylic paint with overlaying layers of resin.  She then etched into the paint with carving tools, tongue in cheek images like a wedding, a moving van and money - all the typical topics of a fortune teller!
7"diameter X 3" thick wooden form
acrylic paint
resin
crystals
sterling silver and bronze lion 
Karyn Chopik Studio is made up of a team of talented Canadian artisans. Together we create high quality, luxury jewelry in the sterling silver, bronze, copper, and gold.
All of our work is handmade in British Columbia, Canada.
Our jewelry is handmade to order. Once your order is placed, we do our best to build your order and get it shipped as soon as possible. We will notify you when your order has shipped. For larger orders please allow us additional time to prepare your order.
See our full refund policy