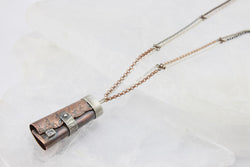 Karyn Chopik Studio
Prayer Bell Necklace
SKU: OAK2021
This One Of A Kind looks like an ancient temple bell. Copper was a common material used in Buddhist work. It was believed to have special healing properties. We love working with copper at the studio because it is a warm metal and just feels good. There is a symbiotic relationship between the wearer and her cherished Karyn Chopik piece. It will brighten when worn when in contact with your natural skin oils and it will turn dark when sitting alone for an extended period of time.  Wear this often and it will shine!
32" long sterling silver and copper chain
75mm long x 27mm wide bell shaped pendant in copper and sterling silver
6x4mm sterling silver bezel
6x4mm Cubic Zirconia crystal
Karyn Chopik Studio is made up of a team of talented Canadian artisans. Together we create high quality, luxury jewelry in the sterling silver, bronze, copper, and gold.
All of our work is handmade in British Columbia, Canada.
Our jewelry is handmade to order. Once your order is placed, we do our best to build your order and get it shipped as soon as possible. We will notify you when your order has shipped. For larger orders please allow us additional time to prepare your order.
See our full refund policy