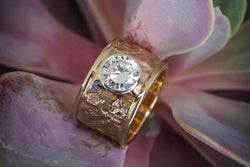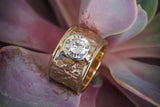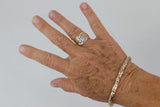 Karyn Chopik
Sasha Ring
Commission Enquiry
Now this ring was hard to part with!
A long time friend and client came in recently with her old gold. Many of the pieces she brought were outdated and hardly worn, including a pendant with this stunning 8mm, 2.2 carat diamond!
Kaiden hand-made the 14k white gold bezel, and Karyn carved the wax for the 14k yellow gold band- It looks like a painting with heavy palette knife strokes. The texture of the band against the smooth outer rings and sparkling diamond creates a wonderful contrast.
This client was the first ever to get a custom gold piece from Karyn Chopik Studio 20 years ago. The bracelet she's wearing is also a Karyn Chopik gold piece! (She must really love us 😉)
We really loved how this ring turned out, It's truly one of a kind.
14k yellow gold band

14k white gold bezel

2.2 carat diamond
Karyn Chopik Studio is made up of a team of talented Canadian artisans. Together we create high quality, luxury jewelry in the sterling silver, bronze, copper, and gold.
All of our work is handmade in British Columbia, Canada.
Our jewelry is handmade to order. Once your order is placed, we do our best to build your order and get it shipped as soon as possible. We will notify you when your order has shipped. For larger orders please allow us additional time to prepare your order.
See our full refund policy