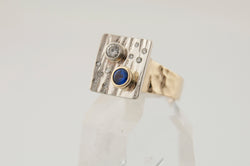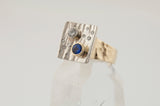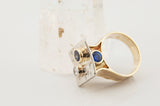 Karyn Chopik
Shannon Ring
Commission Enquiry
"Fit for a Queen"
This ring was recently created for an actual Queen- well, a Queen in the barbershop world that is!
This talented singer and her quartet (four part harmony) competed in a world wide competition and came home with the first place blue ribbon and a crown! This is an extraordinary once in a lifetime achievement but it doesn't end here. Shannon also competed many years later and won a second time! We couldn't have created a more perfect ring for this champion. The 3 blue sapphires are symbolic of the blue ribbon. The central diamond and small diamonds scattered across the top are from her mother's old rings.
This magnificent 14k white and yellow gold showstopper was based on our "Leader of the Pack" ring from our regular collection; just another example of what you can do with any piece from the line!
Karyn Chopik Studio is made up of a team of talented Canadian artisans. Together we create high quality, luxury jewelry in the sterling silver, bronze, copper, and gold.
All of our work is handmade in British Columbia, Canada.
Our jewelry is handmade to order. Once your order is placed, we do our best to build your order and get it shipped as soon as possible. We will notify you when your order has shipped. For larger orders please allow us additional time to prepare your order.
See our full refund policy