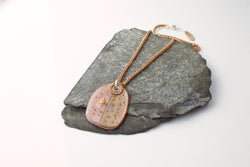 Karyn Chopik Studio
Mid Summer Night Dream
SKU: Oak202113
 This simple necklace is a unique mix of art and fashion. We rolled the bronze pendant through a rolling mill with an actual leaf to imprint the pattern into the metal. Hand painted with acrylic paint and layered with sparkly resin 1/2 of the pendant is a soft peach/coral color the other 1/2 a golden soft sand color. The little star gives a dreamy touch!
16" woven bronze chain with 2" sterling silver chain
45mm L x 35mm W bronze art resin pendant
10mm Swarovski crystal lifesaver
6mm long 14k gold filled star with cubic zirconia
Karyn Chopik Studio is made up of a team of talented Canadian artisans. Together we create high quality, luxury jewelry in the sterling silver, bronze, copper, and gold.
All of our work is handmade in British Columbia, Canada.
Our jewelry is handmade to order. Once your order is placed, we do our best to build your order and get it shipped as soon as possible. We will notify you when your order has shipped. For larger orders please allow us additional time to prepare your order.
See our full refund policy