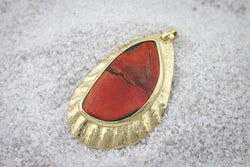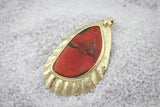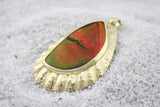 Karyn Chopik
Sunrise Pendant
SKU: GOLD12
Commission Enquiry
This exquisite 18 karat gold pendant is a true example of the Karyn Chopik signature metal smith technique.
Most Goldsmith houses make pieces by carving wax, or doing them in CAD computer program. This lovely shell pendant was completely hand fabricated using an ancient metal smith techniques called Repoussé.
An 18k gold bar was created in a crucible then rolled flat into thin sheet metal. We then "chased" the gold metal with an assortment of hammers and tools forming the shell. Many years of practicing on copper sheet metal and experimenting with just the right tools made this beautiful piece possible!
The bezel for the ammolite was then created and soldered onto the shell, before being gently tapped with a tiny tool to fold the bezel over the stone. One has to be very careful and take their time at this stage because one slip and you can potentially crack the stone!
The ammonlite centre is fossilized shell dating back to the time of the dinosaurs. It is only to be found in one place on the earth- The foothills of southern Alberta. The rolling flash of colour make this pendant a remarkable work of art. When worn, it radiates that beautiful glow like watching the welcoming rays of the rising sun.
Day breaks and morning greets the sun her rays reach out promising of a new and better day to come.
45mm x 30mm 18k yellow gold hand forged shell

Ammolite stone
Karyn Chopik Studio is made up of a team of talented Canadian artisans. Together we create high quality, luxury jewelry in the sterling silver, bronze, copper, and gold.
All of our work is handmade in British Columbia, Canada.
Our jewelry is handmade to order. Once your order is placed, we do our best to build your order and get it shipped as soon as possible. We will notify you when your order has shipped. For larger orders please allow us additional time to prepare your order.
See our full refund policy