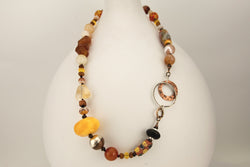 Karyn Chopik Studio
The Depths Of Mind
SKU: OAK12
Lately I have been mad about yellow. This crazy, cool one of a kind is surprisingly cohesive. It was fun to use beads I have been collecting for decades and tie them into a new expression that symbolizes light, colour and fun. Wear summer sunshine all year road and live life to the fullest!
24" long hand knotted with black silk thread
Handmade lamp glass barrel bead 30mm x 14mm
7 x  agate beads  14mm
1 x carved large amber and resin bead  30.5mm x 18.5mm
Citrine chunk 20mm x 20mm
5 x Swarovski crystal 8mm
9 x raw amber matte beads 7mm x6mm
3 x amber barrel beads 16mm x 12mm
1 x handmade sterling silver and bronze bead 17.5mm
1 x fire agate 16mm
2 x amber and resin orange/yellow beads 13.5mm
1 x black vintage agate washer 17mm x 9mm
1 x vintage trade bead 1870's 20mmx12mm
3 x carnelian beads 6mmm
1 x citrine bead 6mm
Hand made copper, sterling silver and bronze panel 52mm long
2" Sterling silver tail and lobster clasp
Karyn Chopik Studio is made up of a team of talented Canadian artisans. Together we create high quality, luxury jewelry in the sterling silver, bronze, copper, and gold.
All of our work is handmade in British Columbia, Canada.
Our jewelry is handmade to order. Once your order is placed, we do our best to build your order and get it shipped as soon as possible. We will notify you when your order has shipped. For larger orders please allow us additional time to prepare your order.
See our full refund policy