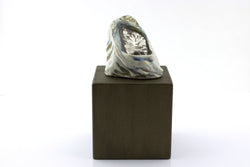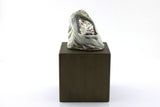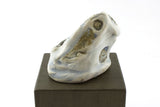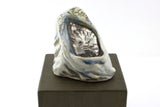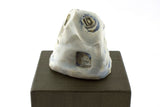 Karyn Chopik
The Hooded Monk
SKU: ART12
Mixed media - hand thrown clay encrusted with silver nickel.
An abstraction of a hooded monk.
I was experimenting with using both metal and clay - an art form not often
done. The oxidized textured metal of the silver nickel is a dramatic contrast to the
smooth, melting clay body. An ancient Tibetan seal was carved into a wooden doweling and impressed into the clay.
Karyn Chopik Studio is made up of a team of talented Canadian artisans. Together we create high quality, luxury jewelry in the sterling silver, bronze, copper, and gold.
All of our work is handmade in British Columbia, Canada.
Our jewelry is handmade to order. Once your order is placed, we do our best to build your order and get it shipped as soon as possible. We will notify you when your order has shipped. For larger orders please allow us additional time to prepare your order.
See our full refund policy