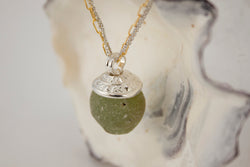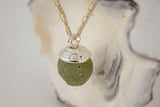 Karyn Chopik
Tumbled In The Ocean
SKU: OAK2022-1
This mystery stone was given to me by a fellow jeweler in Maui. I originally thought it was beach glass but when I drilled it out it was too hard, which got me thinking it may  be Green Quartz. We will never truly know about this tumbled stone from the bottom of the sea but it sure makes for a stunning piece.


18" - 14K Gold Fill and Sterling Silver Chain
Mystery Stone
Sterling Silver vintage button cap.
Karyn Chopik Studio is made up of a team of talented Canadian artisans. Together we create high quality, luxury jewelry in the sterling silver, bronze, copper, and gold.
All of our work is handmade in British Columbia, Canada.
Our jewelry is handmade to order. Once your order is placed, we do our best to build your order and get it shipped as soon as possible. We will notify you when your order has shipped. For larger orders please allow us additional time to prepare your order.
See our full refund policy