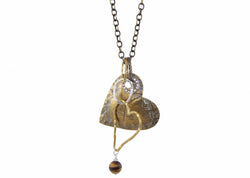 Karyn Chopik
Weathered Heart Necklace
SKU: N618X-1
Each one of these metal hearts is hand cut and pounded, so, just like our real hearts, no two are exactly alike. There is a signature X stamped into the pendant using the end of an old railway stake- a way of saying "cross my heart".
The handmade wire heart drop gives a layered feeling and a touch of movement to the piece. We call this piece the Weathered Heart because even though it has endured hardship, it still remains beautiful, open and strong.
5.9mm Antiqued bronze plated chain
55mm 20 gauge antiqued bronze heart
24" Chain Length
18mm brass life saver ring set with Swarovski crystals 
Sterling silver 12 gauge wire ring with brass wire heart
Drop in tiger's eye, clear quartz, or Botswana agate
Sterling silver clasp and tail 

Karyn Chopik Studio is made up of a team of talented Canadian artisans. Together we create high quality, luxury jewelry in the sterling silver, bronze, copper, and gold.
All of our work is handmade in British Columbia, Canada.
Our jewelry is handmade to order. Once your order is placed, we do our best to build your order and get it shipped as soon as possible. We will notify you when your order has shipped. For larger orders please allow us additional time to prepare your order.
See our full refund policy